Mrs. Njeri Okono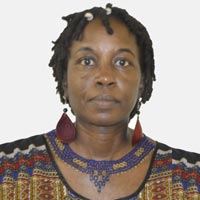 Njeri is a broadly trained and experienced communications professional with skills and experience at both managerial and shop-floor level, specialising in communication and advocacy strategy development and implementation as much as in writing, editing, translation and social media – with moderate-level skills in video production, graphic design and layout. She also has advanced skills in rapporteuring and report-writing.
She holds a Master of Arts in Communication Studies and a Postgraduate Diploma in Mass Communication (Journalism) from the University of Nairobi, a Diplôme de Traducteur Commercial from Alliance Française, and a Bachelor of Education from Kenyatta University. She also studied Content Strategy at the Medill School of Journalism, Media and Integrated Marketing Communications, Northwestern University.
For her entire professional life spanning nearly for 30 years, Njeri has worked in multicultural and international settings, including in Ethiopia, Mexico, and Nigeria. Her duties have included conceptualising, writing, editing and disseminating a broad variety of multimedia content for public awareness, advocacy, marketing, technology transfer, fundraising and training. She is adept at rejigging and reorienting communication content, styles and products to fit the needs and capacities of different audiences, channels and purposes – including talking points to achieve strategic intent, and communicating technical information in everyday language for lay audiences. Njeri practices an integrated approach to communications, blending communications with public relations and social marketing.
In addition to Gĩkũyũ – her native tongue – Njeri is fluent in Kiswahili and English, proficient in French, has a good working knowledge of Spanish (to United Nations proficiency level), and she knows a few elements of Dho'Luo.
have a question?
Send Me a Message